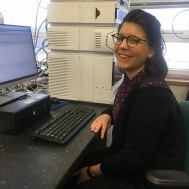 March 2018
Why are you thinking of recruiting apprentices?
"Recruiting apprentices is a great way to bring a fresh set of eyes and new ideas to the company. The younger generation has a very different set of skills and are often naturally capable in the use of various platforms of technology. Although they usually have little work experience, in my experience, apprentices are very keen to learn and progress in their careers. Also, as an environmental and science-based company, raising awareness on current environmental challenges can have a positive impact and encourage apprentices to make a difference."
What type of people are you looking for?
"The type of people we are looking for would ideally be flexible and adaptable, keen to learn various skills from laboratory to engineering skills. As there are various departments within our company, strong communication and reporting skills are also valuable. We look for apprentices committed to the progression of the company and willing to share new ideas to help to facilitate the continued growth of Arvia."
What prospects does Arvia offer?
"So far, Arvia has offered permanent positions to every apprentice we've had, and we intend to continue to do so. Apprentices are valuable to a company, as they've spent a minimum of 2 years with us being trained on how we specifically operate and therefore become 'specialists' on our processes and procedures. Apprentices that finish their qualification can pursuit – if they wish to – a higher education degree through university or college. One of our apprentices, Mark Rushforth, has finished his qualifications and is now managing his own department. He also supports and trains a further two apprentices, who are keen to follow in his footsteps and progress their careers within Arvia."
Lucile Francois, Assistant Operations Manager, Arvia Technology Ltd.
View All Articles