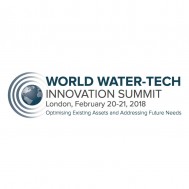 20/02/2018
–

21/02/2018
Hilton London Bankside
Arvia are proud to be the Silver Partner at this year's World Water-Tech Innovation Summit.
Mike Lodge, CEO of Arvia Technology will be hosting an open round table discussion on Tuesday 20th February at 12.15pm:
"Micropollutants: How can we effectively treat by-products of the modern world?"
Many of the world's aquatic ecosystems are already severely damaged due to human interference, including industrial manufacturing. Micropollutants discharged in wastewater pose an unquantified threat to the environment and human health. We encourage an open dialogue on this pressing subject from all participants.
For more information on Nyex treatment applications or the treatment processes, please get in touch with one of our application experts at info@arviatechnology.com.