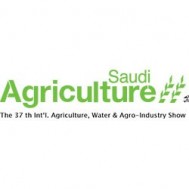 07/10/2018
–

10/10/2018
Riyadh International Convention & Exhibition Center
Arvia are happy to announce that they will be exhibiting for the first time at the Saudi Agricultural Exhibition at the Riyad International Convention and Exhibition Centre in Riyadh.
2018 is the 37th edition of the Saudi Agricultural Exhibition which sees 350 exhibitors from over 31 countries come together to showcase the best advancements and opportunities in the agricultural sector. Over the last 30 years 200 billion Saudi Riyals have been invested into this sector and in order to keep this expansion Saudi Arabia has created a five-year development plan which includes investment in building dams, water treatment works and desalination plants. One of the key themes surrounding this year's exhibition is the utilization of water which will focus on the sustainable development to accomplish water and food security in the agricultural sector.
Biological processes are often used to treat agricultural wastewater. However, these methods often produce toxic or non-biodegradable organics which can provide an ineffective process. Other processes such as regeneration produces matter that needs to be taken off site and disposed.
Arvia's Nyex™ solution is a low-cost regeneration process that is based on a non-porous absorbent material which helps to increase the rate of adsorption. The Nyex system not only concentrates the pollutants such as metaldehyde on to the adsorbent surface but it also allows for them to be destroyed. The benefits of this system include no sludge or secondary effluent to be produced, fast on-site regeneration. In the majority of applications chemicals are not dosed meaning it can be reused as safe water.
Arvia will be exhibiting at stand 1G43 throughout the duration of the exhibition. For further information on our treatment process or if you would like to arrange a meeting with us at the Saudi Agricultural Exhibition please fill out the contact form below.