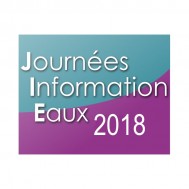 09/10/2018
–

11/10/2018
ENSI Poitiers
The 23rd edition of the Water Information Days (JIE) will take place from 9 – 11 October 2018 at ENSI Poitiers.
The JIEs have been organised every two years since 1974 by APTEN and the E – BiCOM team (Waters, Biomarkers, Organic Contaminants, Media) of the IC2MP Institute (UMR CNRS 7285).
Increasingly sensitive analytical techniques combined with heightened public awareness over the health and environmental effects of trace pollutants is resulting in ever tightening water discharge standards.  Some of the most difficult to treat effluents are those containing low and trace levels of organic pollutants, often referred to as micropollutants or emerging contaminants.
Arvia will be exhibiting at stand number 15 throughout the duration of the event and will be presenting their tertiary treatment solution. The Nyex-a treatment system combines adsorption and electrochemical oxidation for the targeted removal of trace level organics and colour.
For further information on the treatment process or our applications please get in touch or arrange a meeting with us at the JIE Congress using the form below.