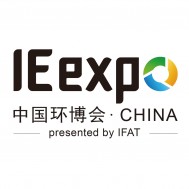 03/05/2018
–

05/05/2018
Shanghai New International Expo Centre, Hall W1 - W5
This year, Arvia will be participating in the Innovation Pavilion at IE Expo between 3 – 5 May 2018.
The opportunity for advanced tertiary treatment is particularly apparent in China because the discharge regulations for chemical oxygen demand (COD) have been drastically reduced since 2015 bringing industrial, and some municipal, operations out of compliance. Regulatory discharge levels have been reduced to 50 mg/L, and in some circumstances as low as 30 mg/L, which leaves traditional processes in need of replacement or an additional treatment step to comply.
Arvia's Nyex treatment systems combine adsorption with electrochemical oxidation to reduce trace and recalcitrant COD levels, as well as the effective removal of colour. The company has shown particular success in complimenting other processes including Fenton, Ozone or other combinations of processes that are generally classed as advanced oxidation processes (AOPs). In some instances it is more beneficial to simply replace existing tertiary or quaternary treatment technologies with Arvia's Nyex system to bring the organisation in-line with compliance.
Shanghai New International Expo Centre (SNIEC) is located in Pudong's key economic development zone. Find more information on the venue and programme here.