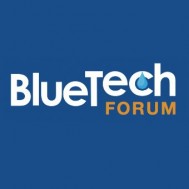 06/06/2017
–

07/06/2017
The Marker Hotel, Dublin, Ireland
The BlueTech Forum runs from 6th to 7th June 2017 at The Marker Hotel in Dublin. Arvia's CEO Mike Lodge and David Parocki, Head of Sales will be representing the company at the event. The forum involves roundtable briefings, key note speeches and case studies to generate discussion on various topics of concern within the water sector today. The event provides a valuable opportunity to hear about some of the most innovative technologies available and generate an understanding of how these can tackle the issues raised.
Arvia's David Parocki will be participating in the roundtable on 'Micropollutant Removal and Advanced Oxidation Processes' on 7th June. During the roundtable discussion, David will highlight the dangers of contaminated water on our natural ecosystems and will explain how Arvia's ODC™ treatment system can preferentially remove various persistent micropollutants from water and wastewater supplies.
We look forward to sharing examples of how the system has been applied recently to tackle various micropollutants in partnership with UK utilities companies and in industry around the world.
If you would like to book a one to one meeting with Mike or David to discuss a specific water or wastewater treatment challenge, please email marketing@arviatechnology.com to arrange.