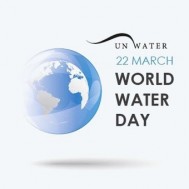 March 2017
World Water Day is held annually on 22nd March and aims to highlight the importance of sustainable water management. As consumers of water, we need to consider how we can prevent further contamination of the limited amount of freshwater sources we have available to us.
The theme of this year's World Water Day is 'Wastewater' and this is where #TheArviaEffect campaign comes into play.
Arvia custom designs a system called Nyex™ which enables the reuse of water by removing non-biodegradable organics, removing colour and lowering Chemical Oxygen Demand (COD) and micropollutants. This treatment means that companies can sustainably continue to manufacture and deliver in areas of water scarcity by reusing water and ensure that wastewater is safe to discharge to the environment.
It is important for organisations to meet safe regulatory targets for allowing water to flow back to nature, such as the EU Water Framework Directive, in removing priority substances. Nyex™ enables 96% removal of micropollutants at 0.1 kWh/m3 and can remove recalcitrant COD to <10 ppm at 18 kWh/kg COD.
This treatment creates a positive impact on the industrial use and reuse of water and is a tremendous step towards a more sustainable future in water management.
In order to spread the word about World Water Day, Team Arvia will be holding a small fund raising event at our office in Cheshire following the #Blue4Water theme decided by WaterAid UK.
View All Articles