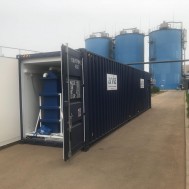 July 2018
Arvia Technology, from Runcorn, will see its Nyex™ wastewater treatment system installed on to a site in Tianjin, South China, to initially treat 10m/hour wastewater in the pulp and paper industry, with a view to expand across 13 other large-scale sites.
Arvia's groundbreaking technology will help remove the hard to treat COD (chemical oxygen demand) from the wastewater and enable it to pass China's strict regulations of 50ppm COD for safe discharge.
The deal comes off the back of Arvia's successful treatability roadshow earlier this year in Shanghai when the firm introduced its industry changing technology to Chinese delegates.
Mike Lodge, chief executive officer, said: "We are delighted to announce our first full-scale treatment system to be installed in China to help treat wastewater in the pulp and paper industry.
"If we continue to allow usable water supplies to deplete at the current rate, by 2030 water demand is going to surpass supply by 60 per cent.
"Decisive action is needed to make sure we protect the planet's reserves and protecting water sources from harmful industrial pollution is one of the answers.
"Arvia is making real progress in our movement towards safer water and it's fantastic to see how far we've come globally since the initial development of the technology at the University of Manchester in 2007."
Along with the commissioning, Arvia will also deliver a two-week training course on how to manage the system to the client's on-site team.
The company is based at The Heath Business and Technical Park.
Arvia's Nyex™ solution is applied in both in the industrial and municipal markets.
The company has supported customers with the treatment of challenging wastewaters in the agricultural, chemical, electronics, oil/gas and pharmaceutical industries across Europe and Asia.
Originally published at Runcorn and Widnes World
View All Articles